Corsair Strafe RGB Strafe MX Cherry Red Switch Review!!!
This keyboard out does my Razor keyboard that I used to have. It has loads of features that I really like with this keyboard and it also has Mx Cherry switches on it which is really good because they're super quiet I have enjoyed this keyboard so much corsair gives you a wrist rest which is a bonus which most keyboard manufactures in this day and age do not give you a good functioning wrist rest you usually have have to go to the store and buy one or go online to Amazon or what not to get one which could be a giant pain in the butt so I give Corsair there do with this keyboard.






Here is the drawbacks the software is kind of not that great. I wish they would have special RGB lighting for games if they don't it's really a pain in the butt trying to program this keyboard with special lighting that's one of couple problems that I have with this keyboard. Still needs Lotta love when it comes to a nice keyboard from corsair. another drawback or this may be a minor grip to others Corsair keyboards are made in metal. this keyboard is made in plastic so it may be a drawback to some. Overall the price at this keyboard comes in it's worth every penny that I spend but I wish they can improve on some things for the next version this is worth a buy.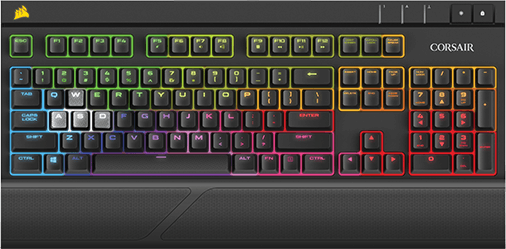 Pros:
RGB Lighting
Wrist Rest For The Win
MX Cherry Red Quite

Cons:
Bad Software
Plastic Over Metal

Overall Score 7.5 Out 10

Done By Masterfrylock13 Of RTE